What is Sclerotherapy?
About 55% of women and 40 to 45% of men have to deal with some vein problem in their lives. When spider veins appear, they can be especially noticeable and embarrassing.
This is often a treatment for varicose veins. Sclerotherapy for spider veins is a treatment as well. This procedure is a minimally-invasion outpatient procedure. It involves injecting a solution directly into the vein. This causes the vein to scar and collapse. Forcing blood to reroute through healthier veins. The collapsed vein is reabsorbed into local tissue and eventually fades.
Telangiectasia is the medical term for spider veins and broken capillaries. These may appear anywhere on the body, typically around the legs. The causes of spider veins on the face may differ from the causes on the legs or other areas.  Spider veins are usually harmless. However, some people have cosmetic concerns over the condition.
Candidates For Sclerotherapy
Sclerotherapy is a treatment option for patients with varicose veins and spider veins. The ideal candidate for sclerotherapy is someone who:
Has been diagnosed with varicose or spider veins by their doctor and has been told that they are suitable candidates for this procedure.
Is in good general health and has no medical conditions that would make them unsuitable to undergo the procedure (e.g., bleeding disorders).
Has realistic expectations about what sclerotherapy can achieve and understands that it may not eliminate their varicose or spider veins but rather reduce their appearance significantly.
Several conditions factor into venous deficiency. This can lead to the development of spider veins. The deficiency comes from a back-flow of blood in the veins. This causes damage to the lining of the vessel walls. Prolonged inflammation, high blood pressure, and obesity are some of the causes of venous deficiency. Sometimes, a non-medical condition causes a venous deficiency. Rubbing or washing the face too hard can cause broken capillaries. Especially around the eye area.
Sclerotherapy Procedure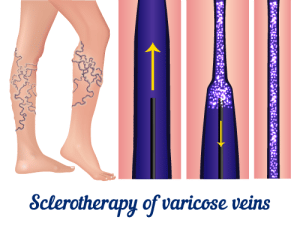 Treatment for spider veins may be an outpatient procedure. This procedure is relatively painless because sclerotherapy uses very fine needles. So there's no need to make surgical incisions. This makes it one of the best vein treatment options.
An active agent is injected into the veins during the ultrasound-guided sclerotherapy procedure. The active agent used in this treatment is a sclerosant. This solution irritates the lining of the vessel, causing it to swell. This swelling cuts off the flow, and the vessel shrinks.
The vascular surgeon decides the number of veins injected in one session. Due to the veins needing to reroute blood, sometimes maybe needed between vein injections. The intervening period between sessions ensures that the blood supply is not upset. Treating too many veins simultaneously risks inducing too much pressure on the adjacent vessels. Thus, the injections are gradually administered in succession during every session.
After each procedure, skin reddening, bruising, and blistering may occur. These side effects subside over a few weeks to a few months. Most patients resume normal activity with little to no side effects. However, you will need to protect the injection site from sun exposure.
Risks and Side Effects of Sclerotherapy
The risks associated with sclerotherapy are minimal, but they do exist. In most cases, the side effects are temporary and go away on their own within a few weeks or months. However, there is always the possibility of more serious complications if you have an allergic reaction to any of the medications used during treatment. Some people may experience:
Pain at the injection site (usually mild)
Bruising at the injection site (usually mild)
Swelling at the injection site (usually mild)
The Benefits of Sclerotherapy
Appearance: Sclerotherapy is a non-invasive procedure that can improve the appearance of varicose veins. The results are often subtle but can be dramatic enough to make a difference in your life. You may notice less swelling, less pain, better circulation, and an overall improvement in health.
Comfort: Sclerotherapy is an outpatient procedure. This means it is minimally invasive, and you will return to normal activities quickly.
Why Visit Coastal Vascular Center
If you are considering sclerotherapy to treat your varicose veins or spider veins, you should consider seeing Dr. Ayar at Coastal Vascular Center in Pearland or Lake Jackson. Dr. Ayar is board-certified in vascular and interventional radiology. He has extensive experience in sclerotherapy and other minimally invasive vascular procedures. He is known for providing exceptional patient care and achieving outstanding patient results.
Dr. Ayar uses the latest techniques and technologies to perform sclerotherapy. This ensures that his patients receive the highest quality care possible. He takes the time to listen to his patients' concerns and develop a personalized treatment plan that meets their unique needs. In addition, Dr. Ayar educates his patients about their condition and treatment options. This helps you make informed decisions about your health. If you are looking for a skilled and compassionate physician to perform your sclerotherapy procedure, Dr. Ayar at Coastal Vascular Center is an excellent choice.